Profile

#1479515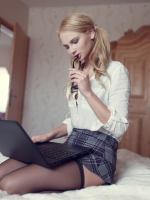 23
Sex therapy/talk/support
Do close-minded prudes ail you? Sex positive support, advice and personal questions, but our sessions don't have to be limited to just professional topics. Dr. Autumn is here to help with other situations, too. I can lead you through a JOI session or fantasy exploration therapy and much, much more. Message for appointments and walk-ins welcome.
GenderFemale

OrientationStraight

LocationBeautiful, IN, US

EthnicityCaucasian

BodySlender

Eye ColorBrown

Hair ColorBlonde

BustC Cup Size
Spoken Languages: English

I am interested in: 1-on-1 chat, All Topics, Just hanging out, Masturbation Instruction, Secrets and Confessions

My Roles: Femdom, Model, Romantic, Secretary, Teacher

My Secrets: Bi-curious, Body Worship, Dildo Play, Femdom, Orgasm Denial/Control
My Scorecard
Average Call Rating:
5.00
out of 5
Answered Calls:
100%
Answered Messages:
87%
Favorited By:
82
Members
Personality Score:
10.00
out of 10
My Recent Reviews
zeptila

Awesome so into it amazing can't wait to call back.

rogereggbert

Best at her job I've ever called. Made a lonely, horny night without my girlfriend much more fun.

legslover58

wow...amazing call!!
My Recent Posts
Happy Valentine's Day Gorgeous!
My Availability Schedule
I don't have a set schedule.